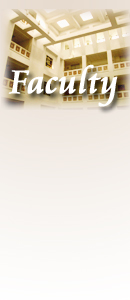 Professor
Soo,Yun-Liang

¡@

Office¡G886-3-5742799 (PHYS R104)
Laboratory¡GNano Device Laboratory
Lab Tel¡G886-3-5733255 (PHYS R408)
Fax¡G886-3-5723052
E-mail¡Gsoo@phys.nthu.edu.tw
Education

1995 Ph.D in Physics, State University of New York at Buffalo, Buffalo, New York, U.S.A
1985 B.S. in Physics, National Cheng Kung University, Tainan, Taiwan

Professional Experience
Current position¡G

2011-present, Professor, Department of Physics, NTHU

Experience¡G


2011-present, Professor, Department of Physics, NTHU
2004-

2011

Associate Professor, Department of Physics, NTHU
2002-2004, Visiting Assistant Professor, Department of Physics, SUNY at Buffalo
1998-2001, Research Assistant Professor, Department of Physics, SUNY at Buffalo
1995-1998, Postdoctoral Research Associate, Department of Physics, SUNY at Buffalo

Research Fields

Solid State Physics
Materials Physics

Research Interests and achievement

Updated on September 3, 2006

My research interest is mainly in the fields of Materials Physics and Synchrotron Radiation Applications. Recently, I have concentrated my works on the studies of nanocrystal, spintronic, and photovoltaic materials using synchrotron radiation x-ray techniques. Except for some nanocrystal samples prepared in my lab at Tsing Hua employing chemical methods, most of the samples used in my x-ray measurements have been provided by leading crystal growers in Taiwan, U.S. and Japan. During the past decade, I have probed the short-range-order and long-range-order structures, as well as local electronic structure and local magnetic properties of selected atomic species, in many spintronic materials including III-V based diluted magnetic semiconductors (DMS) such as Mn- and Fe-doped InAs, GaAs, and GaN systems and diluted magnetic oxides such as Co-doped TiO2 and HfO2 systems. As an example of important success in these research works, our experimental data have provided unambiguous proof for substitutional doping of transition metals in many III-V semiconductors including the first III-V DMS (In,Mn)As. My other works include characterization of nanocrystal and photovoltaic materials. All our experimental results have provided not only important insights for understanding interesting physical properties of the materials but also crucial feed-back information for sample growers to improve the materials for technological applications.
Selected Publications

[2006] Y. L. Soo, W. H. Sun, S. C. Weng, Y. S. Lin, S. L. Chang, L. Y. Jang, X. Wu and Y. Yan, ¡§Local Environment Surrounding S and Cd in CdS:O Thin Films Photovoltaic Materials Probed by X-ray Absorption Fine Structures¡¨ Appl. Phys. Lett. 89 131908 (2006)
[2004] Y. L. Soo, S. Kim, Y. H. Kao, A. J. Blattner, B. W. Wessels, S. Khalid, C. Sanchez Hanke, and C-. C. Kao ¡§Local Structure Around Mn Atoms in Room-Temperature Ferromagnetic (In,Mn)As Thin Films Probed by Extended X-ray Absorption Fine Structure¡¨ Appl. Phys. Lett. 84, 481 (2004)
[2003] Y. L. Soo, S. Wang, S. Kim, G. Kim, M. Cheon, X. Chen, H. Luo, Y. H. Kao, Y. Sasaki, X. Liu, and J. K. Furdyna ¡§Variations of Long- and Short-Range-Order Structural and Magnetic Properties of Thermally Annealed Mn/GaAs Digital Alloys¡¨ Appl. Phys. Lett. 83, 2354 (2003)
[2002] Y. L. Soo, G. Kioseoglou, S. Kim, Y. H. Kao, P. Sujatha Devi, John Parise, R. J. Gambino, and P. I. Gouma ¡§Local Environment Surrounding Magnetic Impurity Atoms in a Structural Phase Transition of Co Doped TiO2 Nanocrystal Ferromagnetic Semiconductors¡¨ Appl. Phys. Lett. 81, 655 (2002)
[2002] Y. L. Soo, G. Kioseoglou, S. Kim, X. Chen, H. Luo, Y. H. Kao, Y. Sasaki, X. Liu, and J. K. Furdyna ¡§Studies of Mn/GaAs Digital Alloys Using X-ray Absorption Fine Structure and X ray Diffraction Methods¡¨ Appl. Phys. Lett. 80, 2654 (2002).
[2001] Y. L. Soo, G. Kioseoglou, S. Kim, S. Huang, Y. H. Kao, S. Kuwabara, S. Owa, T. Kondo and H. Munekata ¡§Local Structure and Chemical Valency of Mn Impurities in Wide-Bandgap III-V Magnetic Alloy Semiconductors Ga1-xMnxN¡¨ Appl. Phys. Lett. 79, 3926 (2001)
[2001] Y. L. Soo, G. Kioseoglou, S. Huang, S. Kim, Y. H. Kao, Y. H. Peng and H. H. Cheng ¡§Inverted Hut¡¨ Structure of Si-Ge Nanocrystals Studied by EXAFS method¡¨ Appl. Phys. Lett. 78, 3684 (2001)
[2000] Y. L. Soo, S. Huang, S. Kim, G. Kioseoglou, Y. H. Kao, A. D. Compaan, D. Grecu, and D. Albin ¡§Effects of heat treatment on diffusion of Cu atoms into CdTe single crystals¡¨ Appl. Phys. Lett. 76, 3729 (2000)

C. T. Chen , F. Sette, Y. Ma, M. S. Hybertsen, E. B. Stechel, W. M. C. Foulkes, M. Schluter, S-W. Cheong, A. S. Cooper, L. W. Rupp, Jr., B. Batlogg, Y. L. Soo, Z. H. Ming, A. Krol, and Y. H. Kao, "Electronic States in La2-xSrxCuO4+d Probed by Soft-X-Ray Absorption ", Phys. Rev. Lett. 66 , 104 (1991)
Y. H. Kao, A. Krol, Z. H. Ming, C. S. Lin, Y. L. Soo, C. X. Gu, I. S. Yang, C. C. Tsuei, "Short range order structures in Y-Pr-Ba-Cu-O system studied by x-ray absorption fine structure(XAFS) techniques ", Mater. Res. Soc. Proc. : Defects in Materials Symposium , Boston, MA, P. 759-764 (1991)
A. Krol, Z. H. Ming, C. S. Lin, Y. L. Soo, C. X. Gu, Y. H. Kao, E. Narumi, D. T. Shaw, G. C. Smith, "Microstructures in Y-Ba-Cu-O thin films investigated by XAFS techniques ", Mater. Res. Soc. Proc. : Defects in Materials Symposium , Boston, MA, P. 873-875 (1991)
A. Krol, C. S. Lin, Y. L. Soo, Z. H. Ming, Y. H. Kao, Y. Ma, C. T. Chen , F. Sette, Jui H. Wang, Min Qi, G. C. Smith, "O 1s X-ray absorption spectroscopy of Tl2Ba2Ca2Cu3O10 high-Tc superconductors " Proc. of the Fourth Annual Conference on Superconductivity and its Application, Buffalo, NY, P. 206-209 (1991)
A. Krol, Y. L. Soo, S. W. Huang, Z. H. Ming, Y. H. Kao, N. Nucker, G. Roth, J. Fink, G. C. Smith, "Local environment around the oxygen atoms in Y-Ba-Cu-O studied by X-ray absorption fine structure(XAFS) spectroscopy ", Proc. of the Fifth Annual Conference on Superconductivity and its Application, Buffalo, NY, p.531-537 (1992)
A. Krol, Y. L. Soo, Z. H. Ming, S. Huang, Y. H. Kao, G. C. Smith, K. Lee, A. C. W. P. James and D. W. Murphy, "Local structure around F in the fluorine-doped Nd2CuO4 superconductor " , Phys. Rev. B 46, 443 (1992)
A. Krol, C. S. Lin, Y. L. Soo, Z. H. Ming, Y. H. Kao, J. H. Wang, M. Qi, G. C. Smith, "Soft-x-ray-absorption studies of Tl2Ba2Ca2Cu3O10-d high-Tc superconductors ", Phys. Rev. B 45, 10051 (1992)
Min Qi, Z. F. Ren, Y. Gao, P. Lee, Y. L. Soo, J. H. Wang, "The influence of hydrogen reduction on single crystals of Bi2Sr2CaCu2Oy " Physica C 192, p. 55-59 (1992)
H. Munekata, L. L. Chang, A. Krol, Y. L. Soo, S. Huang, Z. H. Ming, Y. H. Kao, "Local Mn structures in III-V diluted magnetic semiconductor (In,Mn)As ", J. Crystal Growth, 127, 528 (1993)
A. Krol, Y. L. Soo, S. Huang, Z. H. Ming, Y. H. Kao, H. Munekata, and L. L. Chang "Local structure about Mn atoms in In1-xMnxAs diluted magnetic semiconductors ", Phys. Rev. B 47, 7187 (1993)
Z. H. Ming, A. Krol, Y. L. Soo, Y. H. Kao, J. S. Park, and K. L. Wang, "Microscopic structure of interfaces in Si1-xGex/Si heterostructures and superlattices studied by x-ray scattering and fluorescence yield ", Phys. Rev. B 47, 16373 (1993)
A. Krol, Y. L. Soo, S. W. Huang, Z. H. Ming, L. W. Song, Y. H. Kao, G. C. Smith, "Local environment about O atoms in Pr-Y-Ba-Cu-O films studied by O K-edge XAFS", Proc. of the Sixth Annual Conference on Superconductivity and its Application, Buffalo, NY, p.414-421 (1993)
Z. H. Ming, A. Krol, Y. L. Soo, Y. H. Kao, J. S. Park, K. L. Wang, "X-ray grazing angle scattering and fluorescence studies of interfacial microstructures in Si1-xGex/Si multilayers", Mater. Res. Soc. Proc. : Evolution of Surface and Thin Film Microstructure Symposium, Boston, MA, P. 261-264 (1993)
Y. L. Soo, Z. H. Ming, S. W. Huang, Y. H. Kao, R. N. Bhargava, and D. Gallagher, "Local structures around Mn luminescent centers in Mn-doped nanocrystals of ZnS", Phys. Rev. B, 50, 7602 (1994)
Z. H. Ming, Y. L. Soo, S. Huang, Y. H. Kao, J. C. Tsang, and S. S. Iyer, "Interfacial microstructures of ultrathin Ge layers on Si probed by x-ray scattering and fluorescence yield", Appl. Phys. Lett. 65, 1382 (1994)
Z. H. Ming, Y. L. Soo, S. Huang, Y. H. Kao, K. Stair, G. Devane, and C. Choi-Feng, "Thickness modulation of InGaAs/GaAs superlattices studied by large angle x-ray scattering", Appl. Phys. Lett. 66, 165 (1995)
Z. H. Ming, S. Huang, Y. L. Soo, Y. H. Kao, T. Carns, and K. L. Wang "Interfacial roughness scaling and strain in lattice mismatched Si0.4Ge0.6 thin films on Si", Appl. Phys. Lett. 67, 629 (1995)
R. N. Bhargava, D. Gallagher, T. Sosnowski, P. B. Klein, T. B. Norris, Y. L. Soo, Y. H. Kao, T. A. Kennedy, E. R. Glaser, "Ultrafast and efficient recombination in doped nanocrystals of semiconductors", 22nd International Conference on the Physics of Semiconductors, Vancouver, BC, Canada, Vol 3, P. 2007-2010 (1995)
Z. H. Ming, Y. L. Soo, S. Huang, Y. H. Kao, K. Stair, G. Devane, C. Choi-Feng, "X-ray scattering studies of interfacial microstructures in InxGa1-x/As/GaAs superlattices", Mater. Res. Soc. Proc. : Applications of Synchrotron Radiation Techniques to Materials Science II. Symposium, Boston, MA, P. 171-176 (1995)
Y. L. Soo, S. W. Huang, Z. H. Ming, Y. H. Kao, H. Munekata, L. L. Chang, "Investigation of local structures around Mn atoms in In1-xMnxAs diluted magnetic semiconductors using EXAFS", Mater. Res. Soc. Proc. : Applications of Synchrotron Radiation Techniques to Materials Science II. Symposium, Boston, MA, P. 27-32 (1995)
Z. H. Ming, S. Huang, Y. L. Soo, Y. H. Kao, T. Carns, K. L. Wang, "Variations of interfacial roughness with epilayer thickness and scaling behavior in Si1-xGex grown on Si(100) substrates", Mater. Res. Soc. Proc. : Fractal Aspects of Materials Symposium, Boston, MA, P. 311-316 (1995)
S. Huang, Z. H. Ming, Y. L. Soo, Y. H. Kao, M. Tanaka, and H. Munekata "X-ray scattering and absorption studies of MnAs/GaAs heterostructures", J. Appl. Phys. 79, 1435 (1996)
Y. L. Soo, S. W. Huang, Z. H. Ming, Y. H. Kao, H. Munekata, and L. L. Chang, "III-V diluted magnetic semiconductor: substitutional doping of Mn in InAs" Phys. Rev. B 53, 4905 (1996)
Z.H. Ming, Y.L. Soo, S. Huang, Y.H. Kao, K. Stair, G. Devane, and C. Choi-Feng, ¡§Structural ordering in InGaAs/GaAs superlattices¡¨ J. Appl. Phys. 80, 4372 (1996).
S. Huang, Z. H. Ming, Y. L. Soo, Y. H. Kao, M. Tanaka, H. Munekata, "X-ray scattering and absorption studies of MnAs thin films grown by MBE on GaAs(001) substrates", Mater. Res. Soc. Proc. : Evolution of Epitaxial Structure and Morphology Symposium, Boston, MA, P. 29-34 (1996)
Z. H. Ming, Y. L. Soo, S. Huang, Y. H. Kao, K. Stair, G. Devane, C. Choi-Feng, T. Chang, L. P. Fu, G. D. Gilliland, J. Klem, M. Hafich "Semiconductor superlattices studied by grazing x-ray scattering and diffraction", Mater. Res. Soc. Proc. : Optoelectronic Materials: Ordering, Composition Modulation, and Self-Assembled Structures Symposium, Boston, MA, P. 325-330 (1996)
Y. L. Soo, S. W. Huang, Z. H. Ming, Y. H. Kao, E. Goldburt, R. Hodel, B. Kulkarni, R. Bhargava "Investigation of local structures around luminescent centers in doped nanocrystal phosphors", Mater. Res. Soc. Proc. : Surface/Interface and Stress Effects in Electronic Material Nanostructures Symposium, Boston, MA, P. 283-8 (1996)
S. Huang, Z. H. Ming, Y. L. Soo, Y. H. Kao, T. Chang, L. P. Fu, G. D. Gilliland, J. Klem, and M. Hafich ¡§Studies of interfactal roughness of GaAs/AlAs superlattices by grazing incidence x-ray scattering.¡¨ Modern Physics Letters B 11, 1057 (1997)
Y. L. Soo, S. Huang, Y. H. Kao, and A. D. Compaan ¡§Investigation of interface morphology and composition mixing in CdTe/CdS heterojunction photovoltaic materials using synchrotron radiation¡¨ J. Appl. Phys. 83, 4173 (1998)
Y. L. Soo, S. W. Huang, Z. H. Ming, Y. H. Kao, G. C. Smith, E. Goldburt, R. Hodel, B. Kulkarni, J. V. D. Veliadis, and R. N. Bhargava ¡§X-ray excited luminescence and local structures in Tb-doped Y2O3 nanocrystals¡¨ J. Appl. Phys. 83, 5404 (1998)
S. Huang, Y. L. Soo, Z. H. Ming, Y. H. Kao, M. H. Na, H. C. Chang, E. H. Lee, H. Luo, J. Peck and T. J. Mountziaris ¡§Studies of ZnSe-based semiconductor thin films using grazing incidence x-ray scattering and diffraction¡¨ J. Appl. Phys. 85, 237 (1999)
Y. L. Soo, S. Huang, Y. H. Kao, and A. D. Compaan ¡§Annealing effects and Te mixing in CdTe/CdS heterojunctions¡¨ Appl. Phys. Lett. 74, 218 (1999)
S. Huang, Y. L. Soo, M. Bechmann, Y. H. Kao, X. Wu, T. J. Coutts, R. Dhere, and H. R. Moutinho ¡§Interface morphology of CdS thin films grown on cadmium stannate and glass substrates studied by grazing incidence x-ray scattering¡¨ J. Vac. Sci. Technol. A, 17, 2685 (1999)
Y. L. Soo, S. W. Huang, Y. H. Kao, V. Chhabra, B. Kulkarni, J. V. D. Veliadis and R. N. Bhargava ¡§Controlled agglomeration of Tb-doped Y2O3 nanocrystals studied by x-ray absorption fine structure, x-ray excited luminescence, and photoluminescence¡¨ Appl. Phys. Lett. 75, 2464 (1999)
Y. L. Soo, S. Huang, Y. H. Kao, J. G. Chen, S. L. Hulbert, J. F. Geisz, Sarah Kurtz, J. M. Olson, Steven R. Kurtz, E. D. Jones, and A. A. Allerman ¡§Local structures and interface morphology of InxGa1-xAs1-yNy thin films grown on GaAs¡¨ Phys. Rev. B 60, 13605 (1999)
Y. L. Soo, S. Huang, Y. H. Kao, S. K. Deb, K. Ramanathan, and T. Takizawa ¡§Migration of constituent atoms and interface morphology in a heterojunction between CdS and CuInSe2 single crystals¡¨ J. Appl. Phys. 86, 6052 (1999)
Y. L. Soo, S. Huang, S. Kim, G. Kioseoglou, Y. H. Kao, A. D. Compaan, D. Grecu, and D. Albin ¡§Effects of heat treatment on diffusion of Cu atoms into CdTe single crystals¡¨ Appl. Phys. Lett. 76, 3729 (2000)
Y. L. Soo, S. Huang, Y. H. Kao, S.K. Deb, K. Ramanathan and T. Takizawa ¡§Probing the interface and microstructures in CdS/CuInSe2 and InGaAsN/GaAs heterojunctions by synchrotron radiation¡¨ Jpn. J. of Appl. Phys. 39 Suppl. 39-1, pp 29-34(2000)
Yu-Han Cheng, Yun-Liang Soo, Shiwen Huang, George Kioseoglou, Soon-Seok Kim, Yi-Han Kao, Bae-Heng Tseng, Hsueh-Hsing Hung, Tang-Eh Dann, and Huey-Liang Hwang ¡§Comments on surface studies and surface alteration of CuInSe2 polycrystalline thin films¡¨ Jpn. J. of Appl. Phys. 39 Suppl. 39-1, pp 379-381(2000)
Y. L. Soo, G. Kioseoglou, S. Huang, S. Kim, Y. H. Kao, Y. Takatani, S. Haneda, and H. Munekata ¡§Studies of Impurities in Magnetic Semiconductors: An Example of Important XAFS Applications¡¨ J. Synchrotron Rad. 8, Part 2, pages 874-876 (2001)
Y. L. Soo, G. Kioseoglou, S. Huang, S. Kim, Y. H. Kao, Y. Takatani, S. Haneda, and H. Munekata, ¡§Local structures around Fe in diluted magnetic semiconductors Ga1-xFexAs studied by X-ray absorption fine structure¡¨ Phys. Rev. B 63, 195209 (2001)
Y. L. Soo, G. Kioseoglou, S. Huang, S. Kim, Y. H. Kao, Y. H. Peng and H. H. Cheng ¡§Inverted Hut¡¨ Structure of Si-Ge Nanocrystals Studied by EXAFS method¡¨ Appl. Phys. Lett. 78, 3684(2001)
Y. L. Soo, S. W. Huang, Y. H. Kao, Y. W. Yang, L. J. Lai, V. Chhabra, B. Kulkarni, J. V. D. Veliadis and R. N. Bhargava ¡§Size Variation of Tb-Doped Gd2O3 Nanoparticles Studied by X-ray Excited Luminescence and Diffraction¡¨ Modern Physics Letters B 15, 205 (2001)
S. Huang, Y.L. Soo, Y.H. Kao, and A.D. Compaan ¡§Effects of Thermal Annealing on the Interface Morphology of CdTe/CdS Heterojunctions¡¨ J. Vac. Sci. Technol. A 19, 2181(2001)
Y. L. Soo, G. Kioseoglou, S. Kim, S. Huang, Y. H. Kao, S. Kuwabara, S. Owa, T. Kondo and H. Munekata ¡§Local Structure and Chemical Valency of Mn Impurities in Wide-Bandgap III-V Magnetic Alloy Semiconductors Ga1-xMnxN¡¨ Appl. Phys. Lett. 79, 3926 (2001)
Y. L. Soo, S. Kim, G. Kioseoglou, and Y. H. Kao ¡§Probing the Interface Morphology and Atomic Distribution in Photovoltaic Materials Using Synchrotron Radiation¡¨ Proc. of NCPV Program Review Meeting, Lakewood, Co, P235-236 (2001)
S. Kim, Y. L. Soo, G. Kioseoglou,Y. H. Kao, and X. Wu. ¡§Nondestructive Characterization of Atomic Density Profile in CdS/Zn2SnO4 Junctions by X-ray Fluorescence¡¨ Proc. of NCPV Program Review Meeting, Lakewood, Co, P239-240 (2001)
G. Kioseoglou, S. Kim, Y. L. Soo, X. Chen, H. Luo, Y. H. Kao, Y. Sasaki, X. Liu, and J. K. Furdyna ¡¨Investigation of nanoscale structure in digital layers of Mn/GaAs and MnGa/GaAs ¡§ Appl. Phys. Lett. 80, 1150 (2002).
Y. L. Soo, G. Kioseoglou, S. Kim, X. Chen, H. Luo, Y. H. Kao, Y. Sasaki, X. Liu, and J. K. Furdyna ¡§Studies of Mn/GaAs Digital Alloys Using X-ray Absorption Fine Structure and X ray Diffraction Methods¡¨ Appl. Phys. Lett. 80, 2654 (2002).
S. Kim, Y.L. Soo, G. Kioseoglou, Y. H. Kao K. Ramanathan and S. K. Deb ¡§Compositional Intermixing at CdS/Cu(In,Ga)Se2 Rough Interface Studied by X-ray Fluorescence¡¨ J. Appl. Phys. 91, 6416 (2002)
Y. L. Soo, G. Kioseoglou, S. Kim, Y. H. Kao, P. Sujatha Devi, John Parise, R. J. Gambino, and P. I. Gouma ¡§Local Environment Surrounding Magnetic Impurity Atoms in a Structural Phase Transition of Co Doped TiO2 Nanocrystal Ferromagnetic Semiconductors¡¨ Appl. Phys. Lett. 81, 655 (2002)
Y. L. Soo, G. Kioseoglou, S. Kim, X. Chen, H. Luo, Y. H. Kao, H. -J. Lin, H. H. Hsieh, T. Y. Hou, C. T. Chen, Y. Sasaki, X. Liu, and J. K. Furdyna, ¡§Local Environment Surrounding Ferromagnetically Ordered Mn in Mn/GaAs Digital Alloys and (Mn, Ga)As Random Alloys¡¨ Phys. Rev. B 67, 214401 (2003)
Y. L. Soo, S. Wang, S. Kim, G. Kim, M. Cheon, X. Chen, H. Luo, Y. H. Kao, Y. Sasaki, X. Liu, and J. K. Furdyna ¡§Variations of Long- and Short-Range-Order Structural and Magnetic Properties of Thermally Annealed Mn/GaAs Digital Alloys¡¨ Appl. Phys. Lett. 83, 2354 (2003)
Y.H. Kao, S. Kim, and Y.L. Soo ¡§Nondestructive Characterization of Nanostructure in Layered Materials Using Synchrotron Radiation¡¨ International Journal of Nanoscience 2, 85-107 (2003).
Y. L. Soo, S. Kim, Y. H. Kao, A. J. Blattner, B. W. Wessels, S. Khalid, C. Sanchez Hanke, and C-. C. Kao ¡§Local Structure Around Mn Atoms in Room-Temperature Ferromagnetic (In,Mn)As Thin Films Probed by Extended X-ray Absorption Fine Structure¡¨ Appl. Phys. Lett. 84, 481 (2004)
S. Kim, Y.L. Soo*, G. Kioseoglou, Y.H. Kao, and A.D. Compaan ¡§Migration of Te Atoms and Structural Changes in CdS/CdTe Heterojuctions Studied by X-ray Scattering and Fluorescence¡¨ J. Appl. Phys. 96, 1007 (2004)